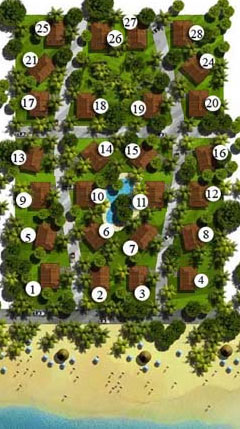 Welcome to Hermosa Beach Bungalows

HERMOSA BEACH BUNGALOWS is an exciting collection of 26 beachfront bungalows in a private resort community.
Each bungalow features it own unique vacation experience, these privately owned and decorated homes are a vacation destination to be desired.
From exquisite whitewater panoramic views of the coastline, where you can watch your favorite surfer riding the swell from the balcony, to a poolside bungalow, which is perfect if you like to be near the action, you can choose a vacation home that is perfect for you, perhaps you prefer a unit with sunrise or sunset view, or even more private are our jungle view units which feature sliding glass doors that open onto a secluded back balcony facing the peaceful jungle view and stunning mountains range which runs directly behind Playa Hermosa.
As you consult with our rental specialist, your location request will be given first consideration, be sure to share your specific needs. Each bungalow is represented below with a photo gallery, click on each one to get you on your way to your Costa Rica vacation getaway!
***HIGHER RATES APPLY FOR AUGUST 1 - 15 OF 2016 DUE TO INTERNATIONAL SURF CONTEST.

BUNGALOW 1
BUNGALOW 2
BUNGALOW 3
BUNGALOW 4
BUNGALOW 5
BUNGALOW 6
BUNGALOW 7
BUNGALOW 8
BUNGALOW 9
BUNGALOW 10
BUNGALOW 11
BUNGALOW 12
BUNGALOW 13
BUNGALOW 14
BUNGALOW 15
BUNGALOW 16
BUNGALOW 17
BUNGALOW 18
BUNGALOW 19
BUNGALOW 20
BUNGALOW 21
BUNGALOW 24
BUNGALOW 25
BUNGALOW 26
BUNGALOW 27
BUNGALOW 28