Tours & Activities
Costa Rica! Leave your wet suit at home and enjoy our tropical water, beach breaks, reef breaks, point breaks, and river mouth breaks at any one of many spots on the Pacific. Try your hand at white water rafting on our wild and scenic rivers. Or, if you prefer, try river kayaking or ocean kayaking. Whatever class of river you want to run, you'll find it here in Costa Rica. While deep sea fishing along the Pacific Coast, you will find some of the best blue water and inshore fishing in the world. Sailfish, Marlin, roosterfish, mahi-mahi, yellow-fin tuna, grouper and wahoo are among the common game fish. If you like to SCUBA dive or snorkel, Costa Rica has an incredible underwater variety of species to view. The warm, nutrient rich water is home to an abundance of fish and sea life.
All of these activities and many more are available for you as a guest at Hermosa Beach Bungalows. we can pre-book any of these tours for you to insure you get just the days and times you want, to fit your vacation schedule. Most of these tours have transportation from Hermosa Beach Bungalows available if you choose not to rent a car.

SURF

Surf Spots

• Playa Escondida

Excellent point break that peaks up forming a very good left and a surfable right. Accessible by land only if you are a member of their beach club. You can rent a taxi boat to the cove from Playa Herradurra.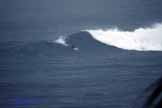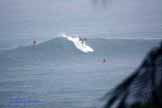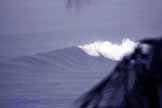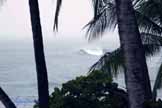 Playa Jaco

This can be good beach break when the surf is not too big. Tends to close out when it gets over 5 feet. Waves are not always dependable. Many companies who offer surf lessons take their beginners to Playa Jaco.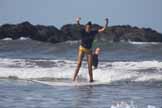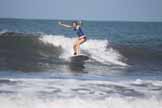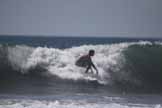 • Roca Loca

Located 1.5 km south of playa Jaco. A rocky point with rights that break over submerged rocks. To get the point, you will have to climb a small hill.

• Playa Hermosa and Others

Playa Hermosa is long stretch of beach offering some of the most consistent conditions on the Pacific Coast and in the world. A variety of sandbars have formed creating a pounding and tubular beachbreak. The following are the breaks that line this beach:

1. Terraza - a fast, hollow right breaking in front of a group of visible rocks. Several other breaks just south of this break offer less punishing waves breaking over a sandbar. Best conditions on a west/southwest swell from low to mid tide incoming.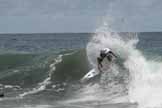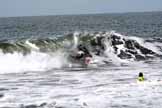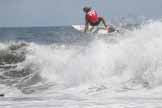 2. Backyard - a very consistent sandbar located at the entrance to the dirt road in Hermosa. This wave breaks close to the beach and is generally hollow with rights and lefts. Best conditions on a southwest/west swell at mid - high tide incoming.

3. Almendro (Almond Tree) - breaking in deeper water than most of the local breaks, this break offers a sandbottom with rights and lefts. Best conditions on a south/southwest swell at mid-tide either incoming or outgoing. This is an advanced wave, not for inexperienced surfers.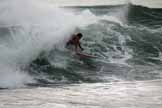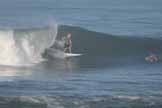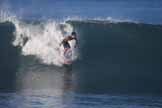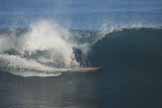 4. Corners - breaking in even deeper water creating a little more size, more sandbottom rights and lefts. Generally bigger than northern breaks of Hermosa. Best conditions at low to mid tide and a west/southwest swell.

5. Tulin - located in front of the Turtle Farm about 10 minutes south of the Backyard, this break is consistently a few feet bigger than other breaks, with a perfect line-up in ideal conditions. Best conditions at low tide on a west swell.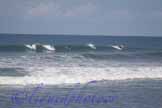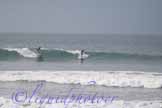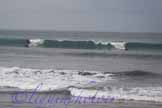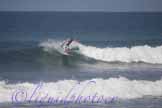 • Esterillos

Breaking over a sandbar on the inside and outside on a submerged reef. Generally outside breaks reforms on the inside for more beginner surfers. No crowds and best conditions at high tide on a south swell. To get here, travel south of Hermosa for 20 minutes and enter at Esterillos Oeste.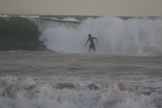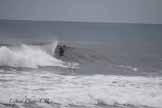 • Bejuco

Beach break offering long waves breaking close to the shore. Best conditions at mid - high tide on a south/southwest swell.

Surf Lessons
We have professional surfers from the Costa Rican surf team as instructors. They provide beginner boards, rash guards, surf clinics and one instructor per every 2 persons. A surf session is 2 hours including the clinic, an instructor is with you in the water. A surf lesson session is $65 includes transportation.
SPORT FISHING

• FISHING IN COSTA RICA

Costa Rica's rich waters boast giant marlin, super sailfish, vigorous tarpon, record-class snook and more than a dozen hard-hitting freshwater species. On the Pacific, it is not uncommon to catch and release 30 sailfish and even a marlin or two ?in just one day. Boat operators release all billfish that are not record contenders; the waters hold many world records. Even deep-sea fly-fishing nets a record number of fish. We can set up a 1/2 day inshore starting at $1000.

• CENTRAL PACIFIC WATERS

Marlin: Caught 12 months a year, but October and its shoulder months are best. Sailfish: The middle of December to the end of April is best rated, but sometimes October has big schools. Tuna: Peak months are June through September, but tuna is available year-round. A dozen or more 200-lb-plus fish are taken every year. Snook: The rainy season seems to be best; a world record Pacific black snook was caught near Rio Naranjo.


TOURS

Tortuga Island Tour is particularly enchanting for it's beauty and tranquility. Tortuga Island is known for its immaculate white sand beach and turquoise waters, a perfect stop for swimming, snorkeling. Our bus will pick you up at Hermosa Beach Bungalows, then after a stop at the Tarcoles Bridge for a typical breakfast and to see the crocodiles, relax as our tour bus drives you to the Port of Punterenas where you will board our catamaran which includes a bar, restrooms and on deck "pools". Walk about the boat to see every view as you cruise out to the sparsely inhabited island for your day in paradise. Reserve your "snorkeling experience", hike the island for the best views or just relax on the beach while you wait to be served a true island banquet "Calypso's Famous Island Lunch" to the pleasant beat of live island music. Spend the afternoon relaxing or swimming in the crystal clear waters until the catamaran boards for a beautiful cruise around some of Costa Rica's uninhabited islands and watch the sunset behind you as you cruise gently into the port, a tour bus awaits you for your return back home.
Canopy Ziplines is an exciting way to see the natural forest of Costa Rica. This adventure includes 15 platforms, 13 cables with total distance in cables of 3.5km, including the longest cable in the area of 2400 ft. This tour is for people of all ages, you haven't been to Costa Rica until you have experienced our ziplines. Staff is well trained and professional.

Horseback Riding - Discovery Horse Tours are renowned for the best trained, best cared for and most loved animals in Costa Rica. All our horses are treated with the utmost respect and are ridden with loose reins and no metal in their mouths; many of our wonderful horses are rescues. See for yourself why Trip Advisor have voted us "No1 activity to do in Jaco" and why we are the only horse riding operation in the whole Central Pacific area that is recommended by travel guides The Lonely Planet, National Geographic, Fodders and Frommers.
Arrive on horseback to the waterfall, to chilled fruit and drinks. Immerse yourself in the gentle cascades of the falling waters, while you give yourself a skin treatment you will never forget. Then amble back refreshed and relaxed. Discovery Horse Tours maintain the only highest horse care standards and are one of only 3 fully licensed and insured operations in the Jaco area. Your safety and enjoyment are our main concern. All our tours include transport from Hermosa Beach Bungalows. Speak to your reservation specialist to reserve in advance, Romance Experience Tour is available with special reservations, we also now offer a Sunset on the Beach Tour
The perfect way to discover the wonders of the abundant nature surrounding us at the private 1500 acre La Quina Reserve and Farm.
http://www.horseridecostarica.com








Manuel Antonio National Park - is Costa Rica's smallest national park, yet the second most visited park. The diversity of wildlife in its 3 square miles is unequaled with 109 species of mammals and 184 species of birds. Visitors can see both three-toed sloth and two-toed sloth, as well as three of Costa Rica's four monkey species — the Mantled Howler monkey, Central American Squirrel Monkey, and White-headed Capuchin monkey. Black Spiny-tailed Iguana, Green Iguana, Common Basilisk, White-nosed Coati and many snake and bat species are also common in the park. Included in the 184 bird species are toucans, woodpeckers, potoos, motmots, tanagers, Turkey Vulture, parakeets and hawks. Dolphins can be observed there, as well as the occasional migrating whale. Scuba diving, snorkeling, sea kayaking, mountain biking, and hiking provide opportunities to experience the tropical wildlife that enriches Manuel Antonio.
A early morning departure (6:30am) from Hermosa Beach Bungalows will put your arrival around 8 am, just in time for the park's opening. You are more likely to see the animals in the morning before the heat of the day sends them deep into the dense foilage for shade. Tour guides are available for around $20 per person, they can show you things, that you will never see on your own. After your 2 hour tour, you can break off on your own to deeper parts of the park where you will see amazing views of the coastline and waterfalls. Manuel Antonio National Park does have a sand beach area for swimming and sunning after you come out of the park.
Tranopy Tour - is the perfect solution for you if you think you would rather not, or are unable to participate in the canopy ziplines, the enclosed Tranopy Tour takes you up the mountain in a cable car and you can choose to zip downs on the cables or ride back down in the cable car.
Carara National Park - Carara National Park covers a low mountainous area of 15,000 acres of an interesting 'transition' forest between the Dry Tropical and the Rainy Forest. Just a 30 minute drive from Hermosa Beach Bungalows, this is an easy half day trip or full day if you care to take it slow and explore the deeper parts of the park.
Home to many mammals, and vast number of species of plants and trees. Appreciate the wonders of this intricate eco-system. And be sure to look for the monkeys! Take your water and pack a snack.
ATV Tour - Includes drinks & snacks. Explore Costa Rica with an ATV! Modern equipment with all the fixings.


OTHER ACTIVITIES

Scuba Diving - Explore underwater marvels. You will be astounded by coral reefs, volanic rock formations as well as many differenct marine creature like angle fish, octopus and moray eels.

Kayak & Snorkeling - Includes transportation, guide, kayak, water, fresh fruit buffet, snorkeling equipment. Duration: 3 hours approximately.

White Water Rafting - For those who enjoy adrenaline filled vacations with heart pounding adventures, white water rafting is the sport to enjoy. Rated as being among the best white water rafting spots in the world, Costa Rica is a paddler's delight. Here rivers range from Class II to Class V rapids, with something for everyone. From families to adventure junkies and from novice rafters to those who enjoy the thrill of zipping down a river, Costa Rica offers some amazing white water rafting experiences.